If your kids haven't written their wish list for Santa yet, but you want to beat the lines and do some shopping in advance, the solution is easy: Just choose a few winners off of this list to take home.
From imaginative-play toys that encourage your kids to set down their screens and get immersed into a new, magical world to classic throwback toys created with an all-new audience in mind, we have found all of the toys and games that your kid will want to get their hands on. Here are the best Christmas gifts for kids in 2020.
1- Hawaiian Shaved Ice and Snow Cone Machine
Help your kiddos make shaved ice, snow cones, snowballs, slushies, — and margaritas for the parents — with this Hawaiian Shaved Ice machine! It's easy to clean, small enough to fit under your kitchen cabinet, and makes the most delicious cold desserts.
2- Educational Insights — Artie 3000 The Coding Robot
Artie 3000 is a friendly little robot that allows your kids to program specific design patterns using intuitive drag-and-drop software. This Christmas gift for kids doesn't even require Wi-Fi to create super cool designs.
3- Lil' Gleemerz Rainbow Figure
You're going to want to grab this hot holiday toy, STAT! Each Lil' Gleamerz plushie features a fluffy tail that lights up, and the enchanting characters always respond to touch and sound.
The Amazon-exclusive version comes in a rainbow-covered package, so your kiddo will know exactly what they are unwrapping when they see it. This toy = Christmas gold.
4- Fitbit Ace 2 Activity Tracker for Kids
In the chillier seasons, it's a challenge to get your kiddo away from the screens and outside. The Fitbit Ace 2 for kids will help you set activity goals for your kiddo, familiarize them with telling time, and even track their sleep quality which you can review via a handy app.
5- Hasbro Don't Step In It Game Unicorn Edition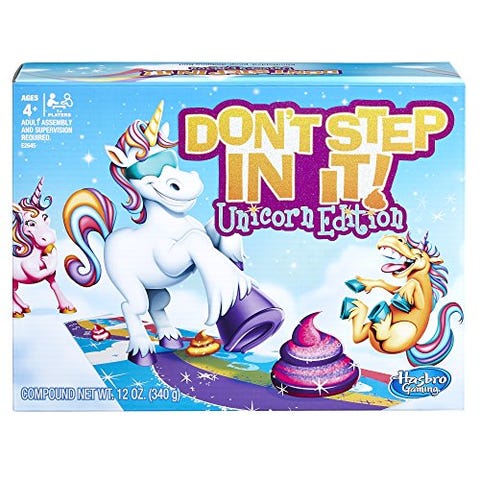 Do your best to avoid the pile of number two (while blindfolded!) and you might be number one. Roll out the game mat and use the spinner to determine how many piles of magic unicorn poo will be placed on the mat. You can laugh, talk, jump, walk, or run as you make your way — but whatever you do, don't step in it.
P.S. This hot holiday toy's availability fluctuates, so do your best to snag it when you can!
6- Squeakee The Balloon Dog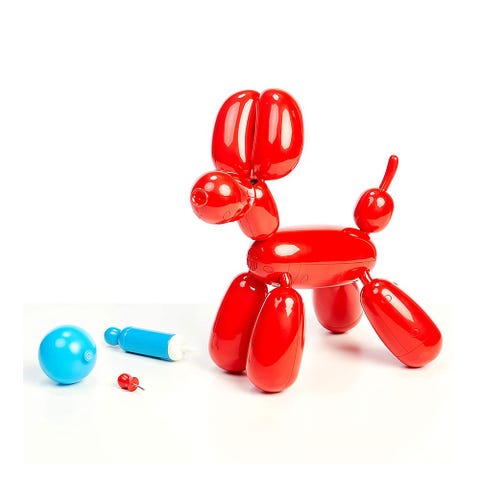 Your wee ones have been begging you for a pup, but before you jump into taking on another responsibility (because we already know who's really going to be walking and training him), Squeakee will help prepare your kids for the real deal.
He reacts to your voice and comes to life when you play with him, so give him tons of pets and tickles, feed him, and even teach him how to sit and beg.
7- Yoto Kids Audio Player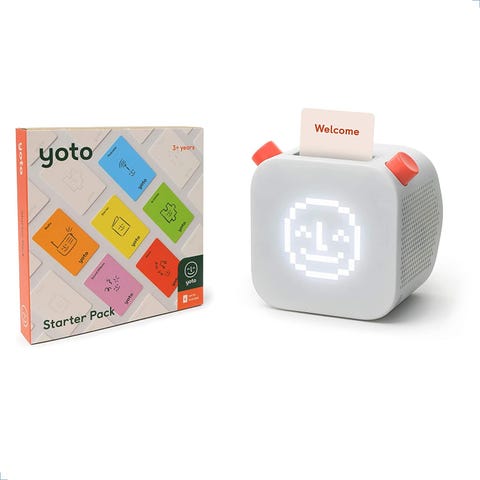 This kid-friendly "smart" speaker is controlled by physical cards that they can scan to play music, audiobooks, podcasts, and even educational activities. Plus, unlike the Echo Dot Kids Edition, it doesn't have a camera, microphone, or any ads for total safety and security.
8- Dreamworks Hatching Toothless Interactive Baby Dragon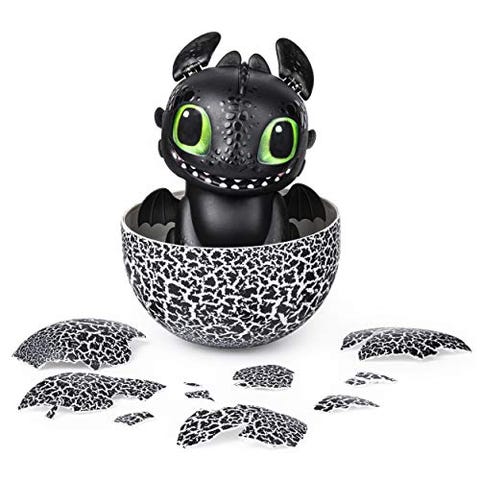 The surprise-and-unboxing trend is still going strong with this black-and-white-speckled, shell-wrapped dragon. Once baby Toothless' shell is agitated, it will break away, revealing the glowing eyes and charming smile of the little dragon.
Once Toothless has hatched, his interactive features allow him to respond to your child's questions, play games, and even let out a sweet little roar in reply to your kiddo. This Christmas gift for kids is like having a pet that you don't have to clean up after.
9- Nostalgia Vintage Cotton Candy Maker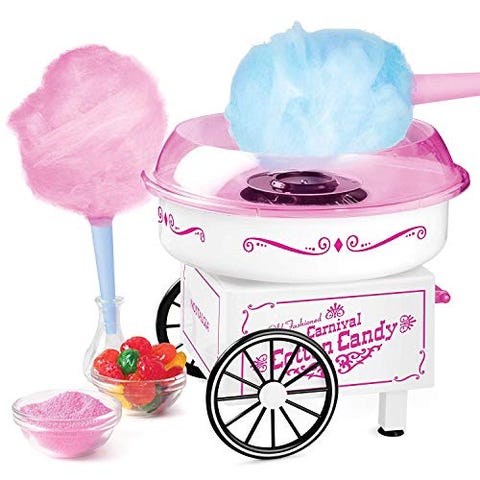 From the vintage design, to the suction cups on the feet, to the traditional ingredients, this cotton candy maker has it all. If your child always wants to get cotton candy at the fair, then this gift will certainly sweeten up their holiday.
10- Hot Wheels Sky Crash Tower Track Set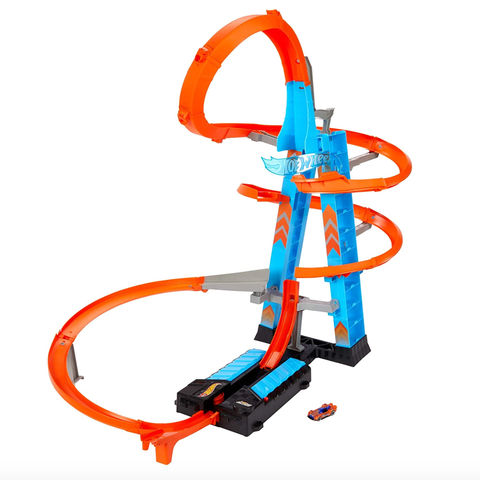 For kids ages 5-10 (and up), this Hot Wheels set lets you race multiple cars at a time to get the ultimate crash. Your kids will have a really fun time making the cars get some serious air, and they'll want to play day after day. (Note that when built, the track stands at 2.5 feet tall.)