You know that time of year: The temperature starts to cool, Instagram is littered with pictures of friends sipping PSLs, and that dreaded school supply list is sent home. While this year may look a little different from the past school shopping sessions, the one thing that is certain is that your child will be starting the next grade and will need the right supplies to set them up for success. You will most definitely need to pick up a few folders and loose-leaf paper, but we have you covered for what your kids will really need for the most productive school year yet. Consider this your ultimate cool back-to-school shopping checklist.
From backpack essentials to new-generation needs, we've rounded up 10 best school supplies your kids will actually look forward to using, no matter how they are learning this fall.
-Homecube Pencil Case Big Capacity
Some students like to have all of their supplies at their fingertips for when they need them. This Easthill jumbo pencil case can hold everything they need, from their rainbow assortment of ink pens to their pads of sticky notes.
It's big enough to keep their supplies handy while compact enough to fit nicely in their backpack or desk.
–2021 Mood Tracker Planner
Help your child keep track of their busy schedule and their hormonal rollercoaster of emotions with this 2-in-1 planner and journal. The planner features monthly and weekly calendars for them to jot down their long list of to-dos as well as weekly journal prompts to keep their mental health in check.
–Rocketbook Erasable Reusable Wirebound Notebook
Your kid will likely run through no fewer than a million notebooks during their lifetime as a student. This year, switch things up with the Rocketbook.
On the outside, it's a run-of-the-mill black notebook. Crack it open, and the Rocketbook is the bridge between traditional note-taking and tech. Once your student finishes their study session, they can scan the QR code on the page to upload the notes to their device and then erase the pages to use all over again! Talk about saving the trees.
–Kum Automatic Pencil Sharpener
Despite many schools trading in traditional school materials for tablets and laptops, pencils will always reign supreme! Make sure your student is ready with a sharp pencil thanks to this automatic, portable pencil sharpener.
–S'well Stainless Steel Water Bottle
Getting your kids to drink enough water throughout the day may seem like a challenge enough on its own, but these stylish S'well stainless steel water bottles make hydration #goals.
The double-wall insulation keeps drinks icy-cold, and the bottle stays condensation-free. No more destroyed notebooks!
-Kindle Kids Edition
our kiddo will have an entire library of books in the palm of their hand with the Kindle Kids Edition. Free of distracting ads and apps, your little one can get lost in one adventure after another. With features like a built-in dictionary, intuitive parental controls, and access to hundreds of titles with a 1-year trial of Amazon's Free Time, you and your tot will be obsessed.
-Pilot FriXion Clicker Retractable Erasable Gel Pens
Life is full of mistakes, but that doesn't mean it also has to be boring. These erasable gel pens will give your kid a motivating boost to take detailed notes in class and while studying — without worrying about scratching out their mistakes.
-BIC Wite-Out Mini Twist Correction Tape
We're all guilty of making mistakes — especially while in school. This set of Wite-Out is every student's savior when it comes to fixing permanent paper errors. The convenient twist-top will keep your kid's correction tape from drying out or getting tangled in the war zone that is their school lockers.
-Crayola Take Note! Erasable Highlighters
Highlighting is the cornerstone of note-taking, but highlighting the wrong section can ruin everything. The Crayola Take Note Erasable Highlighters come in six vibrant colors on one end and a clear eraser tip on the other end. If you accidentally highlight the wrong sentence, simply erase it and move right along!
-Master Lock Vertical Resettable Word Combo Lock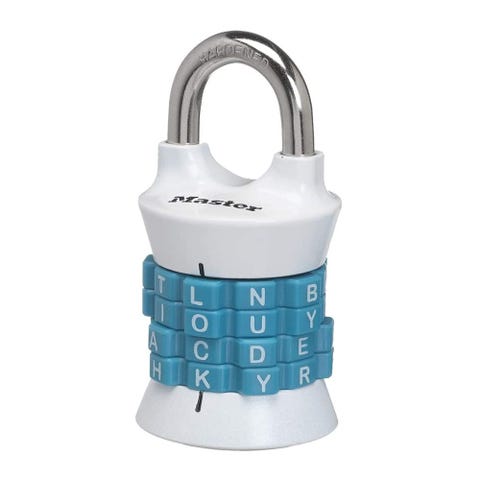 When your kid needs to grab a book from their locker, they shouldn't feel like they're trying to crack open a safe holding the Heart of the Ocean diamond inside. Ditch the number locks and make life simple for your little student with this word-combination vertical lock.